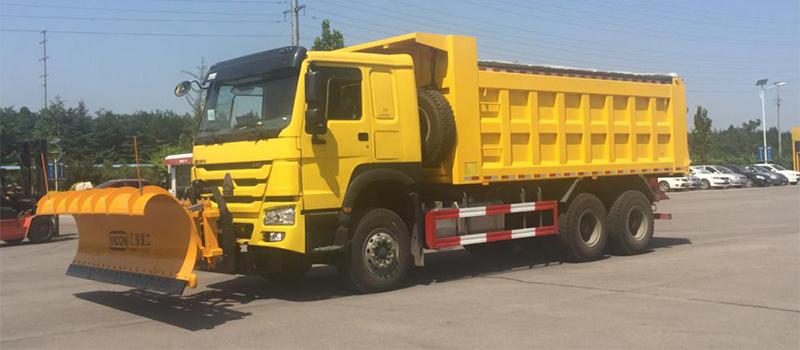 Description
JYJ5257TCXE multifunction snow removal truck is equipped with CNHTC HOWO ZZ3257N4347E1 chassis. The front part of truck is equipped with front snow plow blade (or rotary snow broom for replacement) and middle part can install deicing snow plow blade while the rear end can install a spreader. The multifunction snow removal truck adopts full hydraulic operation with PTO (Power take-off) and hydraulic joints, which is dedicated to provide snow or ice removal solutions for modern highway, city roads, airports and so on.
Technical parameter of whole truck
| | |
| --- | --- |
| Chassis | CNHTC HOWO ZZ3257N4347E1 |
| Driving form | 6X4 |
| Engine power | 249kw |
| Total weight | 25000kg |
| Max driving speed | 80km/h |
| Emission standard | China V |
| Tyre | 12.00R20 (antiskid steel wire tyre) |
Feature
1. The engine adopts six cylinder and four-stroke E-CDIS turbocharged diesel engine.
2. The transmission is MT (Manual Transmission) with ten forward gears and two reverse gears.
3. The driving cab is decorated with heat preservation and sound-proof materials, which is also equipped with air conditioner, warm air blower, defroster, and instruments and apparatus, warning indicators and other general standard configuration.
4. The snow removal truck is equipped with a complete set of lights such as forward lighting, warning lights, and so on. Besides, the body of truck is decorated with reflecting marking.
---
Technical parameter of snow plow blade
| | |
| --- | --- |
| Length | 3600 (mm) |
| Height | 1070 (mm) |
| Rotary angle of left or right | ±30° |
| Effective snow removal width | 3200mm |
| Weight | 1080Kg |
| Surmountable obstacle height | 260mm |
| Max speed of snow removal | 60km/h |
Feature
1. The arc plate of snow removal plow blade is made from high quality wear-resistant Q235 steel plate with good resistance of corrosion and the blade adopts NM400 high wear-resistant steel materials with big cutting force and high cutting speed in the snow removal process.
2. The snow removal plow blade is designed with fast connection structure with truck and it can also achieve rapid replacement for rotary snow broom. Besides, the plow blade and rotary broom shares the same connection system.
3. The snow removal truck adopts hydraulic operation system, which can precisely control the distance between the snow plow blade and floor to provide more effective snow removal solutions and is beneficial to increase service life.
4. The snow plow blade adopts drive-in fast connection device and the replacement of whole equipment can be finished in 3minnutes, which is very convenient for dismounting.
---
Technical parameter of middle deicing snow plow blade
| | |
| --- | --- |
| Model | HQ336YC |
| Dimension | 3360 (L)*3000 (W)*600 (H)mm |
| Angle of blade | 30 ° |
| Working voltage | 24V |
| Operation | telecontrol |
Feature
1. The deicing snow plow blade is equipped with independent full hydraulic control system of American DELTAPOWER-TECNORD Company, which can control the lifting of plow blade and the rotary angle in the left or right.
2. The plow blade is equipped with safety valves to prevent damage when the blade hits the obstacles.
3. The hydraulic collision-prevention device can protect the blade from damaging at overload conditions. With the help of safety valves and pressure regulator, the pressure of blade on the floor can keep stable during the whole snow removal process.
---
Technical parameter of spreader
| | |
| --- | --- |
| Model | HQS-10 |
| Storage capacity | 10m3 |
| Spreading width | 3-15m(Stepless Adjustable) |
| Spreading quantity | Snow melt agent 5~80g/m2, sand 30~350g/m2 |
| Max spreading speed | 60km/h |
Feature
1. The top of conveyor chain has Inverted-V-shaped device to prevent counterflow of materials.
2. The top of storage is equipped with safety filtrating screen, which can filter large foreign matter in the snow melt agent and protect the safety operation of equipment.
3. The spreader has a shelter paulin on the top of material storage container, which can open and close easily and ensure normal operation of spreader in severe environment.
4. The spreader is equipped with remainder clearing device ensuring smooth conveying of material without blocking in the conveying system.
5. In the back of spreader, an explosion-flashing alarm lamp and an arrowed oriented indicator light are installed to ensure the safety working of spreading.
Huiqiang design and manufacture a wide range of snow removal equipment and truck, we are a reliable multifunction snow removal truck manufacturer and supplier, offering snow plow, snow blower, salt spreaders, deicing equipment and other snow plow attachments for winter road treatment. With continuous research and development, Huiqiang offers quality snow removal truck with competitive price.