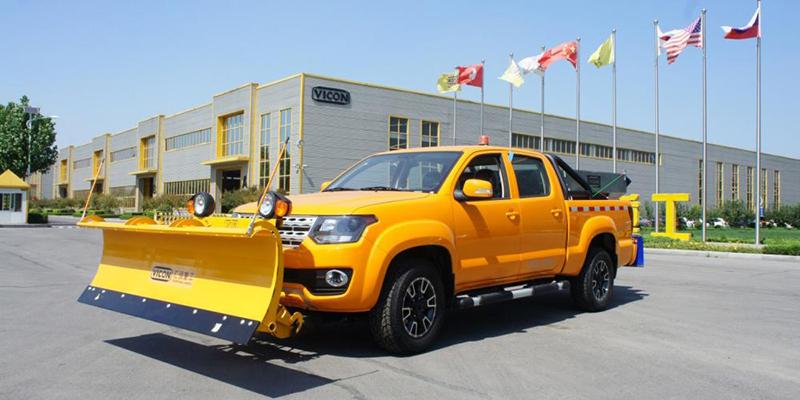 Description
DD5032TCXA snow plow pickup truck adopts 4x4 gasoline pickup truck chassis, which is also equipped with HQ230PC snow plow blade in the front and stainless steel spreader in the rear end. Besides, the snow plow blade adopts independent power unit with voltage of 12V and the explosion-flashing alarm lamp is equipped on the top of truck with sound amplification functions. The emission standard of snow pickup truck is China V.
Technical parameter
| | |
| --- | --- |
| Dimension | 7580, 7250, 6650, 6540, 5610(L)×1840(W)×1960, 1840(H)mm |
| Total weight | 2735Kg |
| Rated load | 50Kg |
| Front passenger | 2+3 |
| Approach angle/ Departure angle | 13/26° |
| front overhang/rear overhang | 945/1260mm |
| axle load | 1105/1630 |
| Wheel base | 3405mm |
| Number of axles | 2 |
| Tread | 1538mm, 1548mm |
Technical parameter of snow plow blade
| | |
| --- | --- |
| Width | 2300mm |
| Height | 700mm |
| Weight | 240kg |
| Max swing angle | 30° (left or right) |
| Working pressure of hydraulic pressure station | 14Mpa-16MPa |
| Spring number of obstacle avoidance | 2 |
| Height of obstacle avoidance1 | 170mm |
| Operation type | wired remote control |
Feature
1. The snow plow pickup truck adopts whole welding process, the surface of steel plow blade is coated with high quality anticorrosion materials. The thickness of plow blade is 4mm.
2. The snow plow blade adopts independent hydraulic system with electric wired remoted control and working voltage is 12V.
3. We adopt electric and hydraulic switching system and it is very convenient for installation and operation. The main power source is the battery of truck.
4. The snow plow blade is made from NM400 whole wear proof steel, which can endure wearing of more than 1500km on the bituminous pavement.
5. The snow plow blade and chassis adopts drive-in quick connection structure the dismounting work can be finished in 3 minutes and the snow plow blade can quick replace with rotary broom.
6. The control system is high reliability integration remote control and you can monitor the operation of snow plow blade in the driving cab.
7. We have safety switching type independent lighting system, which can meet the requirement of operation at night and ensure the safety operation of truck.
8. The snow plow blade has functions of forced down, which can increase the pressure of blade on the floor to get higher efficient of snow clearing.
9. The parts of snow removal truck connected with corrosive liquid are treated with special anticorrosion treatment and the time of salt spray test is more than 120 hours.
Spreader technical parameter
| | |
| --- | --- |
| Storage capacity | 1.1m3 |
| Spreading width | 3-10m |
| Max working speed | 40km/h |
| Dimension | 2200*1300*950mm |
Feature
1. The materials storage container is made from high quality wear-resistant stainless steel.
2. We have assistant engine with power of 10.5 horsepower, which has independent power unit to provide power unit for power guarantee.
3. The conveying system adopts stainless steel chain and the spreader has functions of crushing snow melt agent.
4. The spreader possesses warning system with the arrow orientation indictor on the rear end of the spreader.
5. Each corner of spreader is designed with a pothook for the convenience of hoisting and conveying.
6. The spreading width is ranging from 3m to 10m with infinitely adjustable design. Besides, the spreader has symmetric and dissymmetric functions.
7. The spreading quantity can be controlled precisely and uniformly. The spreading quantity of snow melt agent is 5-80 g/m2 while the quantity of salt or sand is 5-350g/m2.
8. The spreading system is equipped with stainless steel spreading disk and the height of spreader above ground is adjustable.
Huiqiang design and manufacture a wide range of snow removal equipment and truck, we are a reliable snow plow pickup truck manufacturer and supplier, offering snow plow, snow blower, salt spreaders, deicing equipment and other snow plow attachments for winter road treatment. With continuous research and development, Huiqiang offers quality snow plow pickup truck with competitive price.