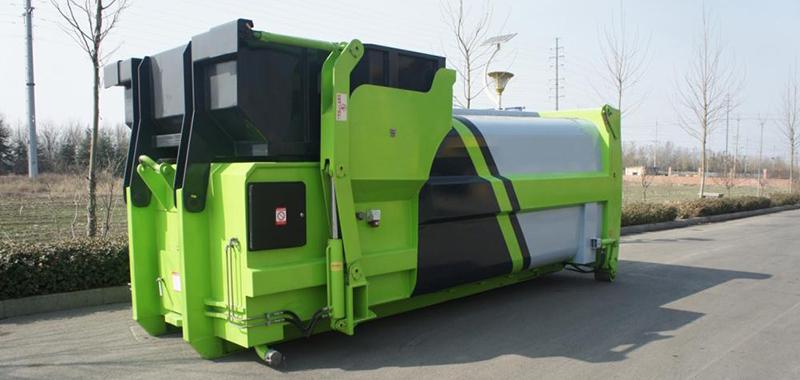 Application
The portable solid waste compactor is widely applied to garbage collection, compaction and transportation in city sanitation collection station, residential community, hospital, department and so on, which is especially suitable for new or old waste transfer station with small area and the renovation of the garbage building.
Technical parameter
| | |
| --- | --- |
| Dimension(mm) | 6000(L)×2510(W)×2400(H) |
| Cycle time(s) | 35 |
| Max compaction force(KN) | 360 |
| Effective loading volume(m³) | 17 |
| sectional dimension of compaction head(mm) | 480(H)×1960(W) |
| Effective volume of compaction cylinder(m³) | 3.5 |
| Motor power(kw) | 7.5 |
| Power supply(V) | 380 |
| Hydraulic pressure(V) | 21 |
| Floor thickness of compaction cylinder(mm) | 16 |
| Floor thickness of container(mm) | 4 |
| Thickness of container(mm) | 4 |
| Height of hook center(mm) | 1570 |
| Width of cross member(mm) | 960 |
Structure
The portable solid waste compactor is composed of compression chamber, compaction head, bucket elevation device and conjoined bucket, compaction garbage storage container, sealing system, hydraulic system and control system, which adopts 380V three-phase power supply.
Advantage
1. The compaction head and cylinder are made from high strength wear proof plate.
2. The compaction head performs horizontal movement with small gap and not need any lead rail.
3. The oil cylinder of compaction head adopts double crisscross arrangement and the max compaction force is 360KN.
4. Two outlets of drain tank are both installed with self-locking sealing valves, which can effectively prevent leakage in the transportation.
5. The overall design of compaction garbage container adopts reverse conic structure, which can ensure complete discharging of garbage by self-weight.
6. You can finish the work of opening door, dumping, and locking door and so on in the cab.
7. The bucket has the volume of 3.0m³ and the internal width is 2.33m.
8. In the hydraulic system, oil cylinder adopts bright chrome plating piston rod to ensure the corrosion resistance and guarantee the service life of normal usage.
9. We have complete alarm device in hydraulic system to protect the safety of our equipment such as oil shortage alarm device, oil plug alarm and oil temperature exorbitant alarm device.
Huiqiang design and manufacture a wide range of municipal sanitation equipment, we are a reliable portable solid waste compactor manufacturer and supplier, offering waste collection and compaction equipment, garbage truck, road and street cleaning vehicle for environmental protection. With continuous research and development, Huiqiang offers quality solid waste compactor with competitive price.