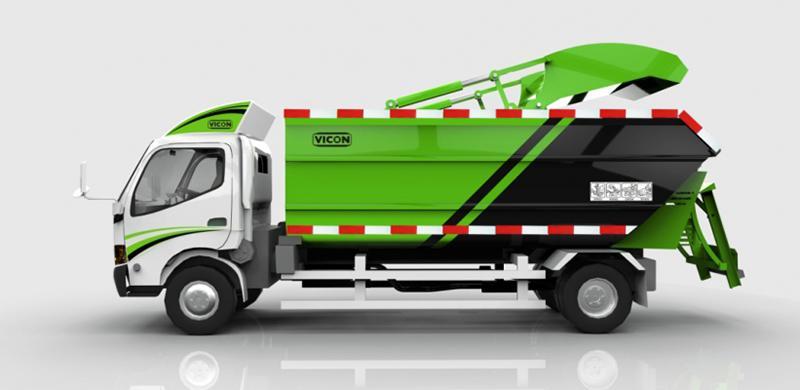 Description
The rear end garbage truck is featured with short turning radius, flexible operation and good sealing performance and the container capacity is 6m³. The type garbage truck not only can separately collect all kinds of garbage but also can perform garbage compaction and transportation treatment. There is no leakage in the progress of garbage collection and transportation, which is also environmental and saving energy.
The rear load garbage truck is widely applied to garbage collection and transportation of kitchen garbage and household garbage in city street and residential area.
Technical parameter
| | |
| --- | --- |
| Dimension | 5920(L)×2050(W)×2990,2790(H)(mm) |
| Total weight | 8280(Kg) |
| Curb weight | 4650(Kg) |
| Rated contained mass | 3355(Kg) |
| Tank capacity | 6m³ |
| Approach angle/Departure angle | 23/14(°) |
| Axle load | 2950/5250 |
| Number of axles | 2 |
| Tire number | 6 |
| front tread | 1585(mm) |
| Rear tread | 1530(mm) |
| Front passage | 3 |
| front/rear overhang | 1125/1435(mm) |
| axle-base | 3360(mm) |
| Displacement | 2892ml |
| Power | 112kw |
| Max speed | 80(km/h) |
| Spring films | 8/7+7,8/8+8 |
| Tire specification | 7.50R16LT 14PR |
Feature
1. The garbage truck is equipped with skip bucket with self-discharging functions in high position and lifting device, which is suitable for standard garbage container with capacity of 120L, 240L and 600L. Besides, the garbage truck can also be designed for manual discharging based on your requirement.
2. The discharging of garbage and resetting of container are achieved with the help of elevation cylinder installed on the chassis and the elevation of container can be realized without other lifting device.
3. We adopt sealed container with large loading capacity. There is no other part inside and outside of container, which leads to no leakage in the collection and transportation process.
4. The operation of our garbage truck adopts mechanical, electrical and hydraulic integration technology and you can realize all the operation in the cab, which is very convenient and reliable.
Huiqiang design and manufacture a wide range of municipal sanitation equipment, we are a reliable rear load garbage truck manufacturer and supplier, offering waste collection and compaction equipment, garbage truck, road and street cleaning vehicle for environmental protection. With continuous research and development, Huiqiang offers quality rear load trash truck with competitive price.