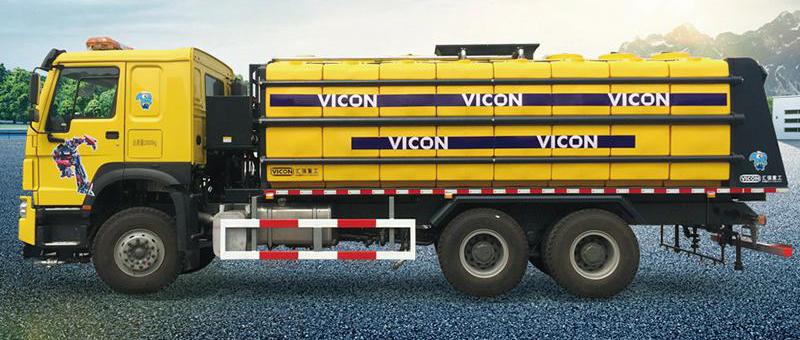 Application
The liquid tank spreader truck can be used as water tank truck in summer for swashing pavement, water sprinkling and decreasing dust, virescence irrigation, cleaning guardrail and so on. Additionally, it can be used ad snow removal truck in winter, which can be applied to snow removal and sweeping and snow melt agent spreading in highway, municipal pavement and so on.
Besides, the front part is designed with quick-replaceable hydraulic interface, which is very convenient to replace snow plow blade, rotary snow broom, guardrail cleaning machine and so on.
Technical parameter
Working speed: 60km/h
Container capacity: 16m3
Salt water spreading width: 5-18m
Water sprinkling width: 5-25m
Spreading density of salts water or ice melt agent: 50-300g/m3 (adjustable)
Feature
1. The water tank of the spreading truck adopts composite tandem mechanisms, which can spread for 15~50km according to the different capacity of water tank.
2. The tank body is made from PE corrosion-resistant material, which is featured with high resistance of acid, soda, cold, high temperature, organic solvent and good impact resistance and so on.
3. The control system is focused on the cab and you can conveniently and precisely control the operation of the spreader truck in the cab.
Huiqiang design and manufacture a wide range of municipal sanitation equipment, we are a reliable liquid tank spreader truck manufacturer and supplier, offering waste collection and compaction equipment, garbage truck, road and street cleaning vehicle for environmental protection. With continuous research and development, Huiqiang offers quality spreader truck with competitive price.