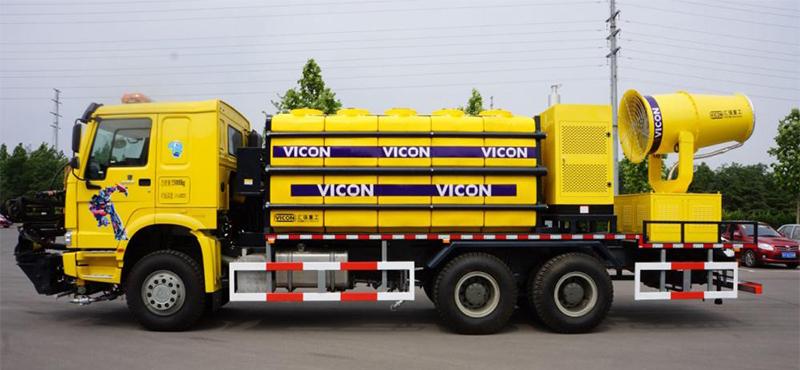 Application
Dust control water truck is designed with water sprinkle and dust control functions and has cold starting device at low temperature and air conditioner, which is mainly applied to municipal sanitation, environmental protection, dust control and lower temperature in mine, yard coal, wharf, steel works, construction sites and so on. Besides, the truck can be used to clean and remove snow in winter.
Structure
The dust control water truck is composed of truck chassis, sprayer, water pump, liquid tank, conveying system, waterway system, air circuit system, rear operation platform, rotary snow broom and so on.
Technical parameter of overall truck
| | |
| --- | --- |
| Driving form | 6×4 |
| Motor power | ≥228kw |
| Max total weight | ≥25000kg |
| Max speed | ≥80km/h |
| Tire | 16PR,11.00R20 |
| Wheel base | ≥4300+1350mm |
| Curb weight | ≥8720Kg |
| Axle load | ≥7000/18000mm |
| Front tread | ≥2035mm |
| Rear tread | ≥1850mm |
| Total height of cab above ground | ≤3050 |
Technical parameter of spraying system
Effective volume of tank
≥10m³, the water tank adopts composite tandem mechanism and made from yellow PE material
Total rated power
≥69kw
Rated range
≥120m
Max cover area
≥30000
Noise
≤85dB
Pressure of water pump
1.5-2.0mpa
Flow of spraying
≥167 L/min
Diameter of spraying particle
20~200μm
Pitching angle
-10~60°
Level angle
±90°
Dimension of spraying machine
≥3100x1700x2500mm
Max width of left and right swashing
≥25m
Max width of front duckbilled sprayer
≥6m
Rotation speed of hydraulic motor
≥1350rpm
Rated rotation speed of hydraulic pump
≥1900rpm
Displacement of hydraulic pump/motor
≥75/75 ml/r
Displacement of hydraulic water pump/motor
≥40/20 ml/r
Number of sprayer
≥ 90
Protection grade is no less than IP55.
Weight
≥2700Kg
Number of fan
≥2
Centrifugal water pump with max flow of 40m³/h and max water pressure of 1.2MPa
Functions
front sprinkling, middle swashing, rear spraying and salt water spreading
Water feeding method
stainless steel centrifugal water pump
Technical parameter of front rotary snow broom
The rotary snow broom adopts full hydraulic control system to achieve lifting and left or right deflection
Diameter of broom
≥810mm
Effective length of broom
≥3000mm
Left and right deflection angle
≥30°, parallel swing method
The clearing width is parallel with main wheel tread.
Max rotation speed
≥380 r/min
Clearing thickness
≥150mm
Working speed
≥40km/h
Motor torque
≥950N.m (continuous operation)
Working flow
≥250L/min
Rated working pressure
≥20Mpa
Huiqiang design and manufacture a wide range of municipal sanitation equipment, we are a reliable dust control water truck manufacturer and supplier, offering waste collection and compaction equipment, garbage truck, road and street cleaning vehicle for environmental protection. With continuous research and development, Huiqiang offers quality dust control water truck with competitive price.