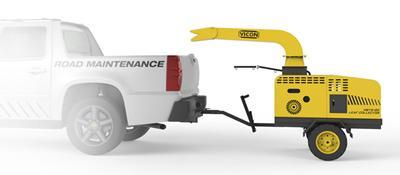 Application
HQYS20 trailer mount leaf loader adopts trailer driving from and can realize the suction, collection and transportation of autumn leaves and has independent power unit, which is suitable for fast traffic and mobile working and can easily solve the cleaning problem of mass leaves and trash in the grassland, pavement, corner of building, greenbelts and so on.
Technical parameter
| | |
| --- | --- |
| Model of motor | KOHLER CV/CH640 |
| Power of sub motor | 15 Kw |
| Max rotation speed of motor | 3600 r/min |
| Size of impeller | Diameter: Ø450mm, 4 blades |
| Air volume | 3700 m³/h |
| Flexadux | Ø200mm*3.5m |
| Transmission V belt | SPA type V belt Ld800 |
| Working noise | 86 dB(A) |
| Petrol capacity | 30L(above 92# clean gasoline) |
| Dimension | 50L |
| Container capacity | 2600*1410*1850mm |
| Collection speed | 0.1m³/min |
| Driving speed | ≤50Km |
Structure
HQYS20 trailer mount leaf loader is composed of trailer carrier, leaf collection and crushing device, output airduct, water sprinkling and dust decreasing device and so on.
Advantage
1. Trailer mount leaf loader is equipped with elastic flexadux and can collect all the leaves, bags, and shredded paper, foamed plastic and other light trash within 6 meters' diameter of our leaf loader.
2. The flexadux can be reversed used for discharging trashes and the crushing function can decrease the volume of trash and reduce transportation times and lower the cost of transportation.
3. The trailer mount leaf loader is compatible with several transporter trucks and also can adopt manual traction to be flexible to change working sites.
Huiqiang design and manufacture a wide range of municipal sanitation equipment, we are a reliable trailer mount leaf loader manufacturer and supplier, offering waste collection and compaction equipment, garbage truck, road and street cleaning vehicle for environmental protection. With continuous research and development, Huiqiang offers quality trailer mount leaf loader with competitive price.