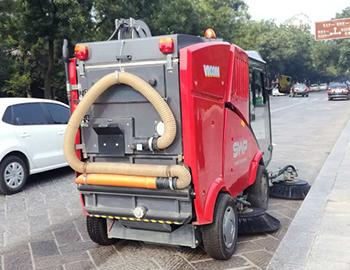 The dust control street sweeper is mainly applied to clean and decrease dust for city road, plaza, airport and so on.
Technical parameter
| | |
| --- | --- |
| Cleaning capacity | 17000m2/h |
| Max cleaning width (bilateral brush) | 1700mm |
| Trash bin capacity | 730L |
| Water tank volume | 220L |
| Unloading height | 1.45m |
| Installed power | 26kw |
| Max speed | 24km/h |
| Dimension | 2975×1300×1995mm |
| Weight | 1870kg |
Feature
1. Our dust control street sweeper adopts straight suction port, which can increase suction power and trash bin can be elevated to 1.45m to clean sucker and then dump trash.
2. The suction port will automatically lift to prevent damage caused by impacting any fixed object when reversing.
3. Our street sweeper is equipped with two filters of primary filter and stainless steel filter, which is very convenient for quick cleaning without any tools.
4. You just need a wrench and then you can dismount all the mechanical parts of our sweeper, which is very convenient for maintenance.
5. The front sweeper brush is equipped with fender system to prevent damage of brush when accident impaction happens.
6. The sweeper can dump trash into the road standard trash containers and therefor it can keep continuous working.
Huiqiang design and manufacture a wide range of municipal sanitation equipment, we are a reliable dust control street sweeper manufacturer and supplier, offering waste collection and compaction equipment, garbage truck, road and street cleaning vehicle for environmental protection. With continuous research and development, Huiqiang offers quality dust control road sweeper with competitive price.